Guest shift by the Connaught Bar
On Thursday 2 February 5 pm-10 pm, we are inviting the Connaught's bar team Giorgio Bargiani, Assistant Director of Mixology, and Maura Milia, Bar Manager, from London for a guest shift at the Cadier Bar.
Our Bar Manager Anton Widmar tells more about the evening:
"It's incredibly exciting for us to be able to invite bars from around the world that has similiar philosophies in terms of service and cocktails. The Connaught in London is an iconic hotel with an iconic bar, and we are looking forward to this unique evening with them bringing their characteristic flavours and elegance to work one evening with us behind the bar. I had a drink for my 30th birthday at the Connaught bar, and I couldn't find a better place for a celebratory drink than that!"
Image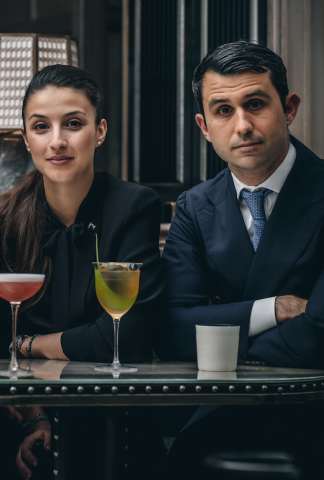 Tell us a little bit about the Connaught bar, what is it that makes it so unique?
Giorgio: We pride ourselves in delivering the highest hospitality experience. It's not just about the creations we serve and how we serve them. It's about how we approach guests and how we make them feel through the stories we share, stories that are deeply rooted in our ideas and life experiences. It is a human encounter, a connection and an exchange.
Maura: The team. It's the team who creates and orchestrates the cocktail and hospitality experience at the Connaught Bar, making it stand out for excellence, attention to detail and dedication to the most memorable moments.
Have you been to Stockholm before? What are your expectations for the visit and the stay at Grand Hôtel?
Giorgio: I have been to Stockholm before and cannot wait to be back to embrace the mystical lights of the Nordics. I look forward to meeting the team and seeing Anton again, a friend from his London times, who's certainly going to make us feel home while showcasing the international clientele of travellers who walk into the bar to share their stories.
Maura: This will be my first is Stockholm and I am truly excited to visit another Scandinavian country. I cannot wait to discover local produce and bring our Connaught Bar style for an ultimate blend of cross-cultural, five-star hospitality. Working with people in their own countries and homes it's always a great learning experience that adds layers of inspiration and knowledge to what we do at the Connaught Bar.
What can the guests expect from your guest evening at the Cadier Bar?
Giorgio: The elegance of our cocktail rituals and the liquid excellence these encapsulate with Macallan.
Maura: Passion and dedication to hospitality. This is what we strive to deliver both at the Connaught Bar and in the bars we visit around the world.
Is there anything of our cocktail menu 'States of the art', that particularly catches your interest? 
Giorgio: I am very looking forward to discovering and tasting local ingredients.
Maura: Alongside produce and techniques, I am excited to see how these liquid libations come to life through service.