Corporate social responsibility and sustainability
At the Grand Hôtel, we respect the privacy and personal integrity of our guests. We are genuine in what we do and proud of our way of doing it.
The Grand Hôtel supports the 10 principles of the UN Global Compact; read our Communication on Progress (COP). We also support and respect internationally recognised human rights. We are a sound, reliable company that takes a long-term perspective to our work. This Code was developed and adopted by the Board of Directors to ensure that our operations live up to our social, environmental and ethical responsibility.
CODE OF CONDUCT
WORKING CONDITIONS
The Grand Hôtel complies with current labour and employment laws, which also govern working hours. No individual, whether employee or manager, should feel violated, harassed or ill at ease at work. We pay fair wages to our employees and no employee should be forced to work overtime that exceeds the maximum number of hours permitted by law. We protect the right of freedom of association and collective bargaining. The Grand Hôtel is an active member of the Visita Employers' Organization, which through collective bargaining with the Hotel and Restaurant trade unions HRF and Unionen enters into agreements that regulate wages and employment conditions.
The Grand Hôtel does not accept child labour or work involving minors and a person must be 18 years or older to be accepted for employment. The Grand Hôtel does not permit any form of forced or involuntary labour in our operations.
The Grand Hôtel views human trafficking as a serious violation of human rights and labour laws and does not accept prostitution at the hotel. In line with this, we continuously strive to maintain a well-functioning organization with the appropriate routines in place to combat prostitution-related activities. The staff is trained to detect such activities and take appropriate action.
EQUAL OPPORTUNITY AND DIVERSITY
AB Nya Grand Hôtel strives for equality and maintains a current equal opportunities action plan to address any shortcomings in this area; read more in our equal opportunities policy. Equality is an integral part of our business, giving all employees, regardless of gender, age, ethnic or cultural background, sexual orientation or disabilities, the same rights, opportunities and obligations in all areas. To the greatest extent possible, the company strives for an even gender balance at all levels of the organisation.
We are dedicated and work actively to growing a diverse workforce and understand that a wide array of experiences and perspectives resulting from such diversity promotes innovation and business success, while strengthening and enriching our corporate culture. We strive to provide employment for individuals from disadvantaged groups, including people with disabilities and newly arrived immigrants.
In planning and implementing our work, the Grand Hôtel should always take diversity aspects into consideration in working conditions, recruitment and employee development. We strive to prevent all forms of discrimination and harassment. Our work to promote a culture of diversity and inclusion is focused on recognizing, understanding, valuing and making the most of people's differences.
Supporting our work for equal opportunity, we strive to treat everyone equally in our recruitment process, both internal and external, as well as in employee development opportunities and the setting of wages. All decisions in these areas should be based solely on personal competence, merits and qualifications.
WORK ENVIRONMENT
Providing employees with a sound and safe work environment is a key priority for AB Nya Grand Hôtel. Work environment management should be an integral part of the company's overall activities; in other words, workplace issues should be addressed in direct connection to day-to-day operations. Preventing work-related ill health and injury is fundamental to our operations. Indeed, achieving efficiency and quality in our work environment is a profitable investment in the future, one that yields high job motivation and a low prevalence of sick leave.
Complying with current occupational health and safety legislation is our minimum obligation. However, at the Grand Hôtel we constantly strive to achieve a higher level of compliance. Work environment enhancement efforts encompass all parts of our operations, including equipment and premises, as well as our methods for managing and organizing our work. This involves working actively to minimize the risk of occupational injuries, accidents and incidents, as well as working with activities to promote employee health, job satisfaction and efficiency.
PRIVACY & CONFIDENTIALITY
Within the framework of your contract of employment, you as an employee have certain obligations to your employer, such as provisions on confidentiality, loyalty and professional secrecy.
All the information that the undersigned has received or has access to within the Grand Hôtel group, may not mentioned or otherwise reproduced in speech, writing or electronic form (i.e., FaceBook, Twitter or LinkedIn) to third parties, in other words people who do not work with this information themselves or who do not need it to complete their job within the group.
Violation of this provision may lead to criminal liability and/or civil liability in accordance with the Act on the Protection of Trade Secrets.
ENVIRONMENTAL RESPONSIBLITY
Integrating concern for the environment throughout our operations is an integral part of the Grand Hôtel's corporate strategy. We strive to use our resources carefully. To the greatest extent possible, we also strive to use renewable natural resources in our operations, while taking an environmental approach to our offering of products and services. We strive to protect the environment by preventing or minimizing the environmental impact of our business, while maintaining the necessary competence to implement the most climate-friendly solution at all times in areas where there is demand for our services. Our customers should be able to feel confident in the knowledge that we continually strive to further develop our products and services so they are in keeping with society's environmental goals and comply with current environmental legislation.
By adhering to applicable environmental legislation, regulations and other requirements which concern the organization, while imposing environmental requirements on contractors, suppliers, other business partners and products, we form the basis for establishing and following up comprehensive and detailed environmental goals and improving environmental performance.
BRIBERY AND FRAUD
The Grand Hôtel fully supports the attached Swedish Code on Gifts, Rewards and Benefits in Business and expects our employees and contractors to comply in full with this Code.
We refrain from giving or receiving any incentives, including gifts and entertainment, which may risk influencing the recipient's decisions or the manner in which they carry out work tasks.
WHISTLEBLOWING
The Grand Hôtel has adopted a Whistleblower Policy to enable all employees of the Grand Hôtel Group, our business partners and other stakeholders to report serious misconduct in the company. We expect employees to adhere to a high ethical standard and report any suspicion of fraud, corruption or similar within the business that does not seem to comply with applicable laws and regulations.
CONFLICTS OF INTEREST
All business decisions should be taken with the company's best interests in mind, and as an employee, one cannot utilize one's position in the company for any purpose other than supporting the business. Personal relationships must not affect business decisions, appointments or terminations. To avoid conflicts of interest, employees may not work in parallel outside the Grand Hôtel without informing their immediate manager.
COMPLIANCE & RESPONSIBILITY
The Grand Hôtel's Code clarifies expectations and requirements for both our own operations and those of our suppliers, contractors and other business partners. Furthermore, we reserve the right to decline arrangements that we deem to be contrary to this Code or that could pose a risk to our employees, guests or to the Grand Hôtel's business and brand.

INFECTIOUS DISEASE PREVENTION
Grand Hôtel has achieved Global Biorisk Advisory Council® (GBAC) STAR™ accreditation, the gold standard for prepared facilities. Under the guidance of GBAC, a part of the worldwide cleaning industry association ISSA, we have implemented the most stringent protocols for cleaning, disinfection and infectious disease prevention in our facility.
Image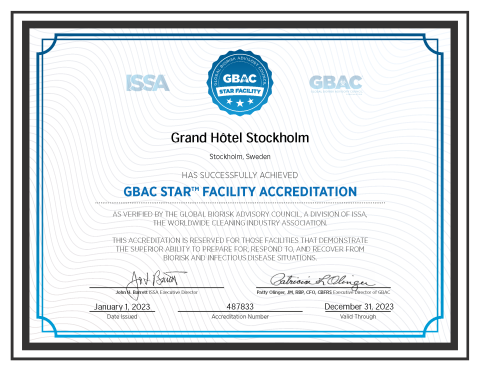 CSR
We have chosen to promote initiatives that benefit our next generation - their health and future. During 2023, we support the organizations Barncancerfonden and Stockholm Stadsmission, for vulnerable young people.
 
Image